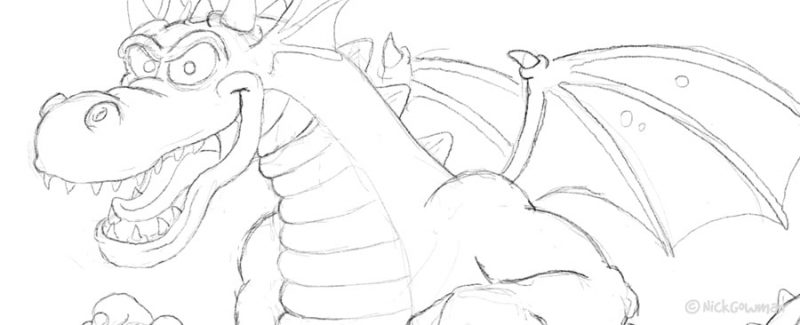 It's been a little while since I've created something new for the portfolio, as I've spent every spare moment up until now working on my new homepage image.
I'm really pleased with how this came out and is currently serving me very well on my homepage, as well as all of the headers on my social media.
But although we have a range of characters in this image, we had something that children relate to missing… dragons!
Teeth and wings and spiky things…
So your usual dragon generally consists of a bulky body, with a head full of sharp teeth one end and a spiky tail at the other.
And wings! Wings are essential on a dragon – after all, you're not going to be able to swoop over villagers and belch fire without them!
Horns? Well, why not – but I also like those little wing things that dragons tend to have on their heads too.
And scales – lots of scales – but not the type you get in Waitrose.
Taking my dragon sketch further…
So with my dragon sketch completed and at a stage where I'm (pretty much) happy with it, I will move on to the digitisation.
I'll firstly create all of the outlines on the dragon sketch in Adobe Illustrator and then move onto some vivid colours.
Keep an eye on this blog or my updates on Instagram to keep up with progress!
A cartoon dragon update…
Really pleased with my final cartoon dragon and he can be viewed in my portfolio.