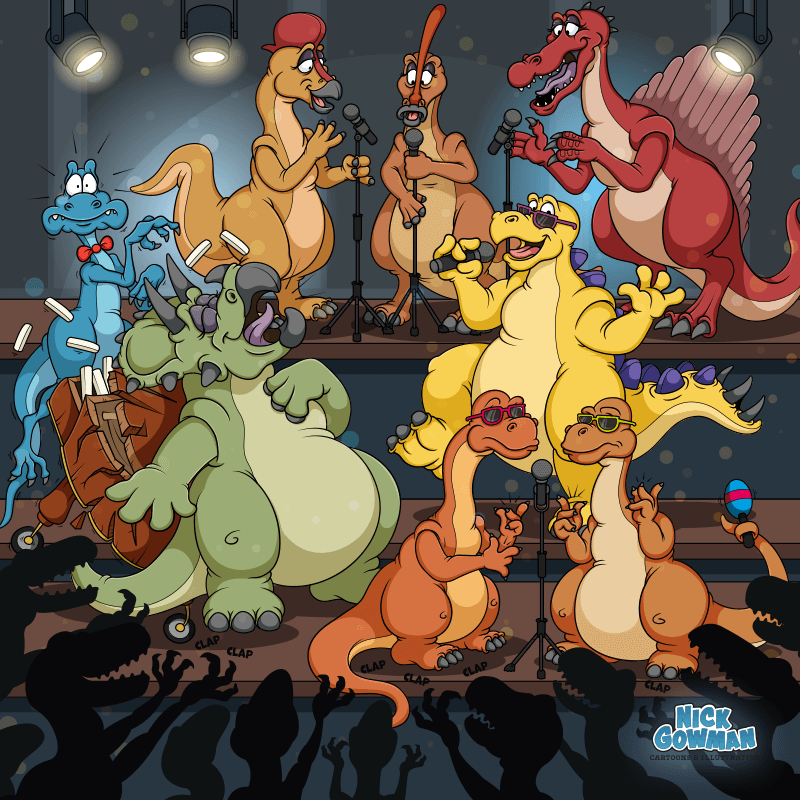 About this cartoon...
As you know, I'm a fan of drawing cartoon dinosaurs, and when a commission came through for an entire cartoon dinosaur band, I leapt at the chance!
Author Paul Slade had written a fun dinosaur poem and wanted a dinosaur illustration to go with it. The poem depicts all types of dinosaurs, singing and dancing together on stage.
We've our main character, Steggy the Stegosaurus, surrounded by all manner of Mesozoic pals!
Creating the cartoon dinosaur band
The first step was a very loose sketch to get a good composition and placement for all the character designs. I also wanted to make sure no one was missing!
I drew each cartoon dinosaur individually to get a feel for each one's personality and their part in the poem. This also allowed flexibility in getting the best possible layout and composition.
Once they were all in place, I added digital outlines and extra details to the characters. When it came to selecting colours, I wanted to ensure that they would all work well together. The great thing about dinosaurs is we don't know what colour they are anyway.
Finally, I added in some spotlights above the stage and a few lighting effects to really get the party started! Do you think these guys are more of a fan of T-Rex or Dinosaur Jr.?
---
Why not have a read of Paul's brilliant dinosaur poem over at planetslade.com
---