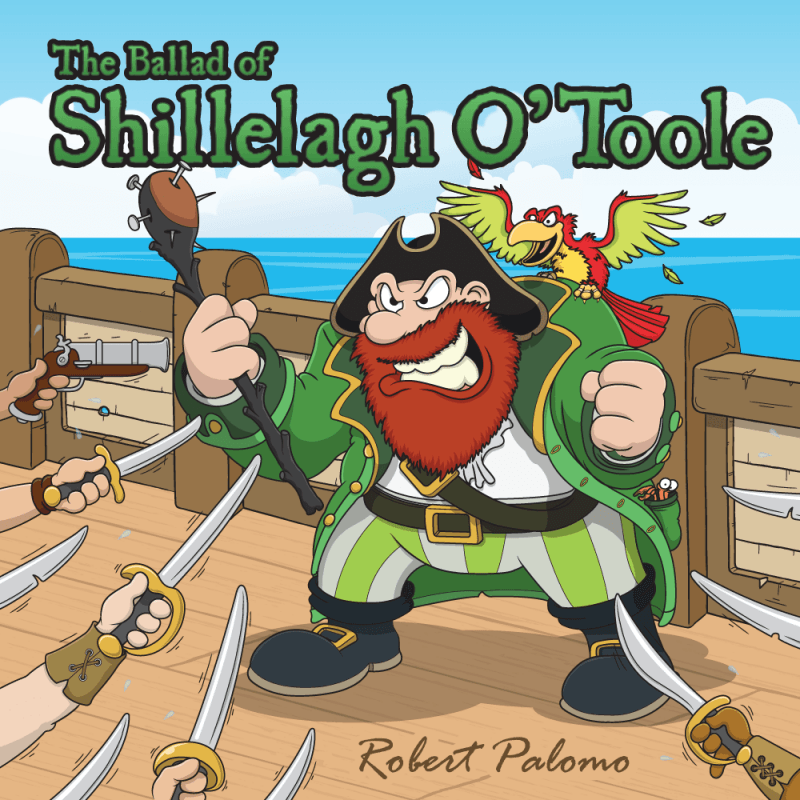 About this cartoon...
A pirate song cartoon was required to illustrate the front cover of a pirate-themed single, written by the very talented Robert Palomo.
The cartoon would depict the dreaded Shillelagh O'Toole, armed and dangerous and having just boarded a ship!
And being he was an Irish pirate, I've used shades of emerald green on all of his clothing. This also aids in making him stand out against a primarily brown backdrop – perfect for small phone and iPod screens!
Adding details to my pirate song cartoon
In his hand is his weapon of choice, the dreaded blackthorn shillelagh, and top his shoulder rides a rather squawky (and probably unstable) parrot! If you look carefully, there's also a little crab hiding out in his pocket.
To complete the scene, we've a circle of rather trembly arms that belong to an extremely scared ship crew, each brandishing a weapon! I decided to add in a basic section of the ship behind him too, as if he's just swung aboard!
Once complete I put all of the artwork elements, along with some title lettering together into a whole album sleeve design that could be used for both print and on iTunes.
---