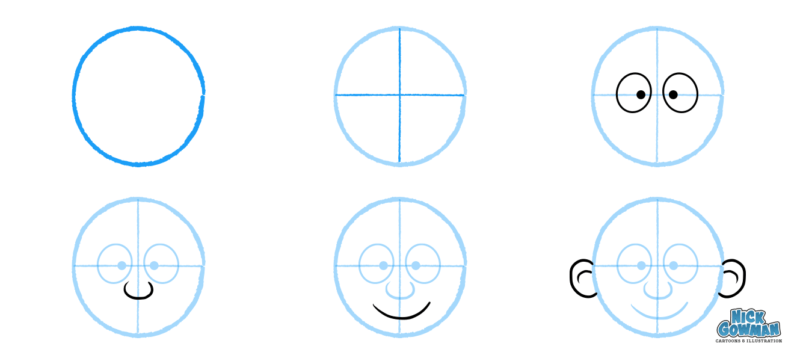 Drawing cartoon faces can be very easy, and in this step by step for beginners, I'm going to give you some basic pointers on how to draw cartoon faces of your own. Grab yourself a pencil and some paper and let's get started on your character design!
Drawing a basic cartoon face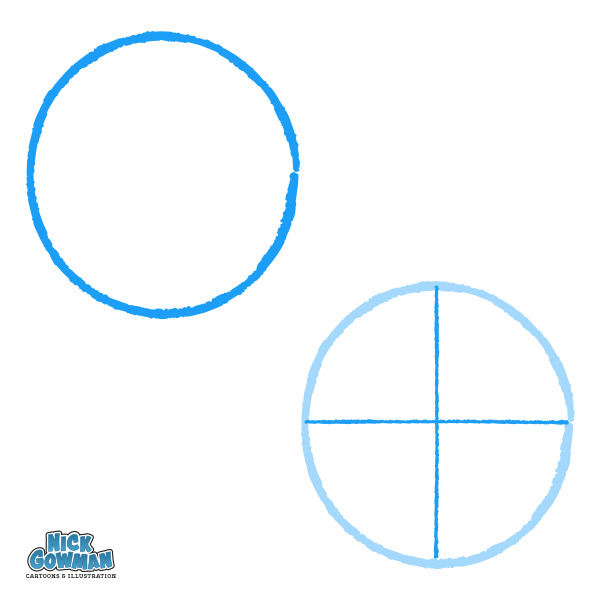 Begin your cartoon face with a simple circle or sphere. Then draw two lines halfway along the circle, one down the middle and another across the centre.
We now have a basic map upon which to add our features. If you change where the lines cross, you can alter the direction your character is looking!
---
Adding Eyes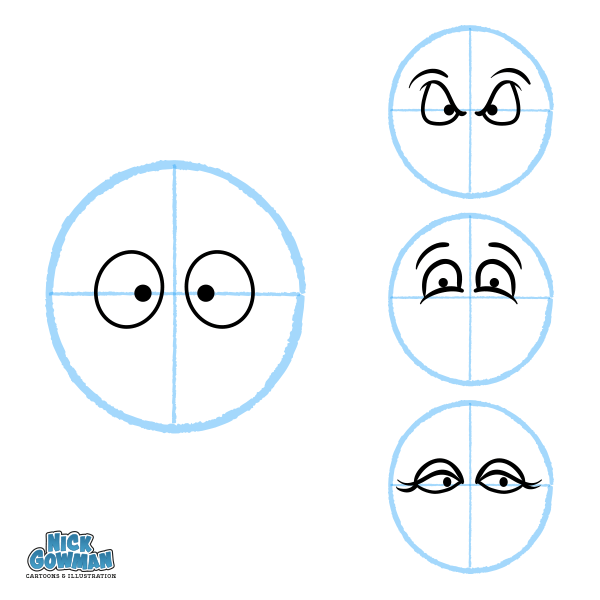 Let's add in some eyes first. These sit on the vertical line. Draw a small circle with a dot in the middle for one eye and repeat for the second. The eyes can be touching or you can leave a gap between them.
You can have lots of fun when drawing eyes. They help with the characters emotion so don't be afraid to try out different shapes! Add angular eyes for an angry expression or wide eyes to show someone is surprised!
---
Draw a cartoon nose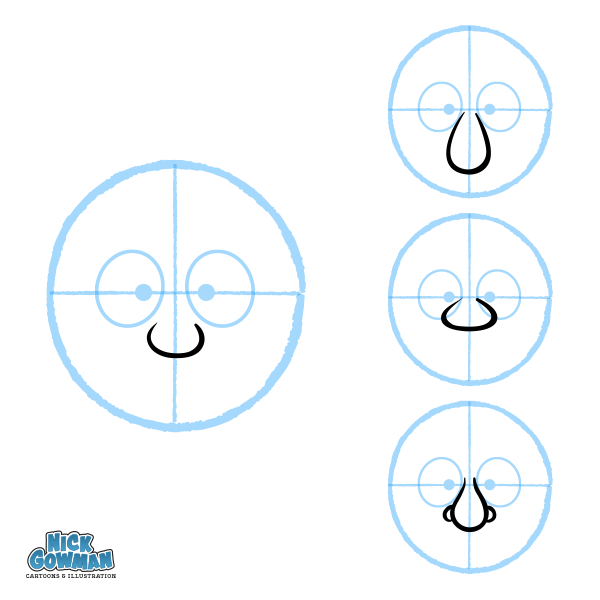 Next, add in your nose. This usually sits just below our horizontal line.
Noses can be as simple or as complicated as you wish. Try some round noses, pointed noses or even square noses! The one here is a simple semi-circle.
Feel free to add nostrils either side too!
---
Add a Mouth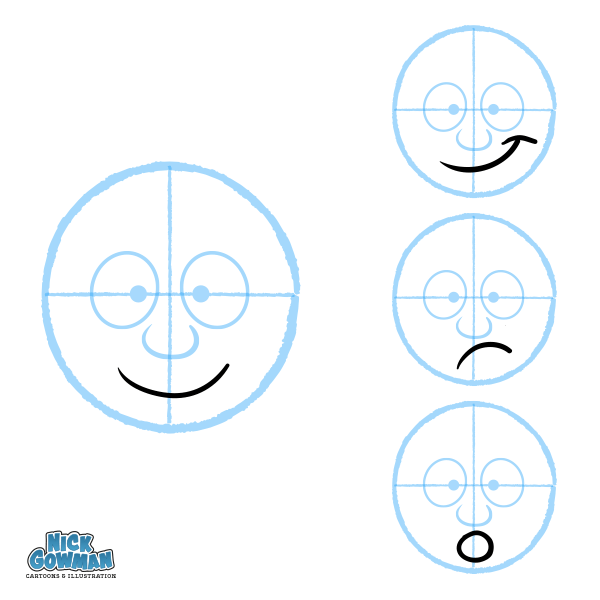 Draw a mouth by adding a small, curved line underneath the nose. The mouth is usually about the same width as the eyes, but this all depends on your character.
By changing the shape of the mouth, we can allow for a greater range of expressions. For example, we can add a smile by tilting the line to one side. Or unhappy by turning the line upside-down. Or even show them shouting by adding a large oval.
---
How to draw cartoon ears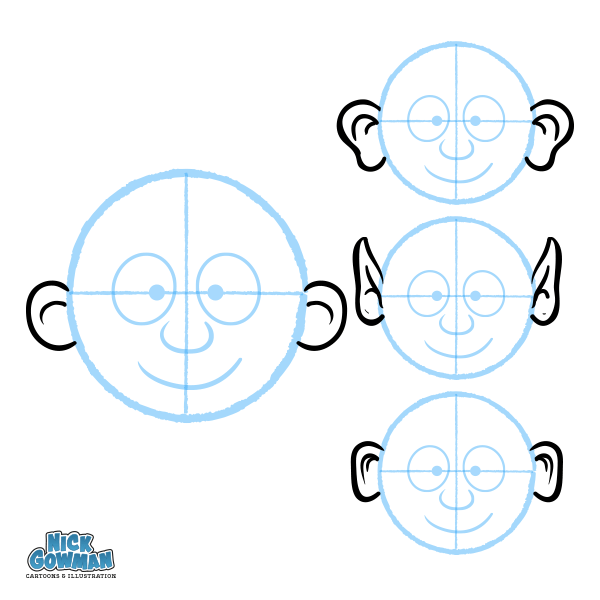 The ears usually sit between the middle of the eyes and the tip of the nose.
Start at the top of the ear and curve downwards, forming a letter "C" on the side of the head. Repeat on the other side. Add another smaller letter "C" inside the ones you've just drawn for detail.
Try out big ears, small ears and maybe even pointy goblin ears!
---
Drawing cartoon heads
Once you've mastered the faces and expressions, you can give your cartoon characters some different head shapes (because no-one has a completely round head, right?).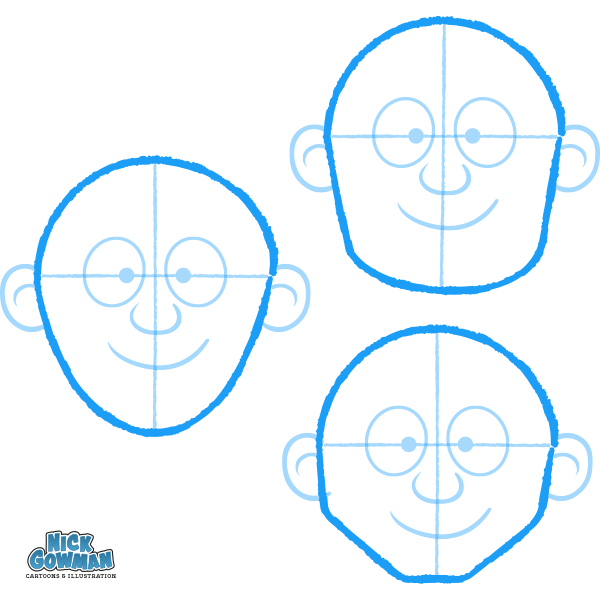 One easy way to completely change to look of your character is to change the shape of their jaw. You might want an angular jaw for a superhero or a rounded chin for a chubby baby. Add a simple shape to the bottom of your original circle.
You could try an oval or more of an angular head, or even try layering up some different sized circles and ovals. This way, you can join them all together into a single head shape.
---
Adding some hair
Don't forget to add some hair to your cartoon face. This will add extra character to your cartoon. It also makes them recognisable if shown as only a shape or shadow.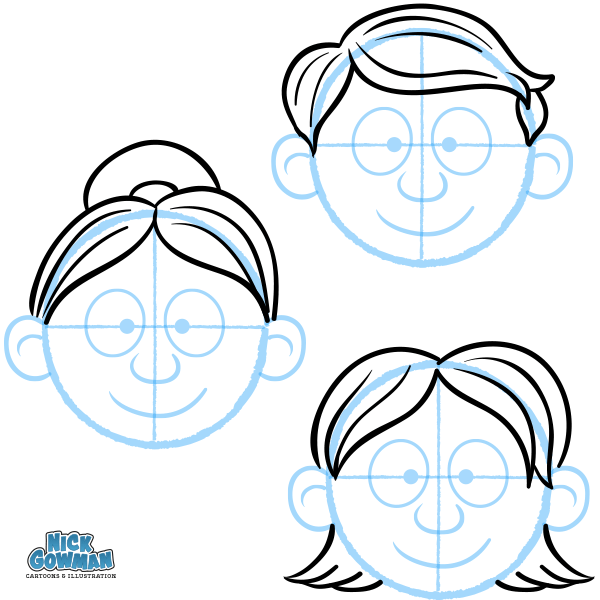 Start by drawing the overall shape of the hair first. It might be long, short or everything in between. Then add in some basic lines to show the direction of the hair.
Once you've mastered drawing cartoon faces and heads, why not follow up by reading my posts on how to draw cartoon hands and drawing cartoon feet? You're well on your way to drawing a complete character design!
---
Do you need help to draw cartoon faces?
If you've any ideas for a new character or mascot design, plaese don't hesitate to contact me!
contact me