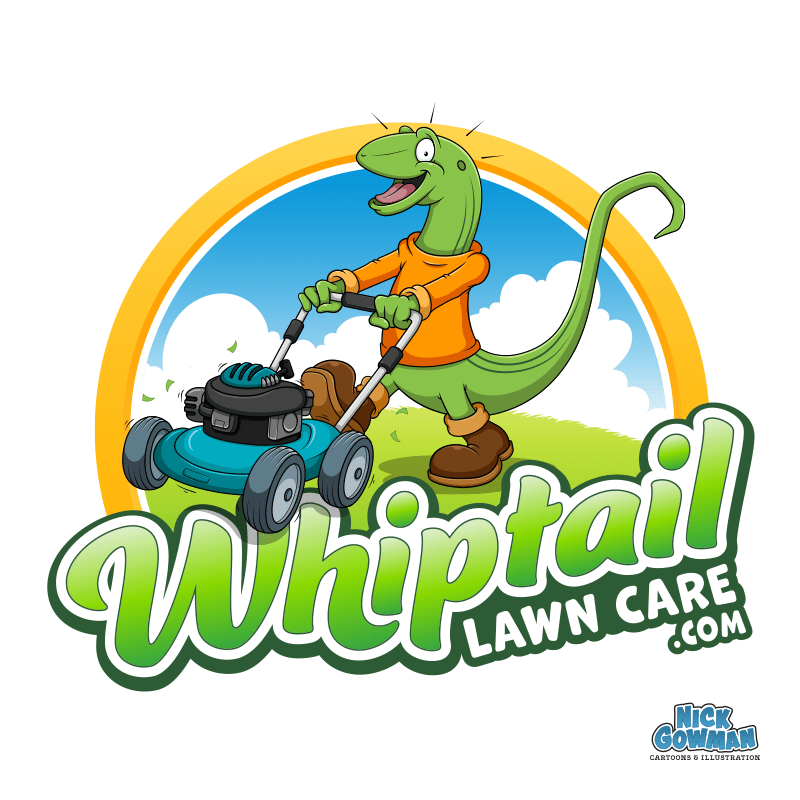 About this cartoon...
This cartoon lawn care logo design began life as a two-part project – the requirement for a brand new cartoon lizard mascot and a fun and eye-catching textual cartoon logo design. This was brought together into a colourful vector illustration with hills and clouds with a bright golden border around the outside.
Creating my cartoon lawn care logo
The mainstay of the logo design is the new cartoon mascot, Willy the Whiptail. The client wanted a happy and bright mascot design, based on the native Whiptail lizard. Once complete, this character would become the new face of the business.
Several ideas and sketches for the look and feel of Willy were created, before refining further into a completed mascot character. Inks and colours were then applied before placing him back into the logo design. He's pictured in the logo cheerfully pushing along a small cartoon lawnmower.
A selection of vibrant colours were chosen, with green and orange being client favourites.  A unique palette of colours based on these choices was created. I've also written a blog post about the process of designing a cartoon lizard mascot.
Stylised logo lettering
Various typefaces and layouts were experimented with before settling on a nice curvy font, which fitted the company name perfectly. The initial font has been adjusted to give it a more stylised feel. This, coupled with some vibrant grass greens set the text apart.

---