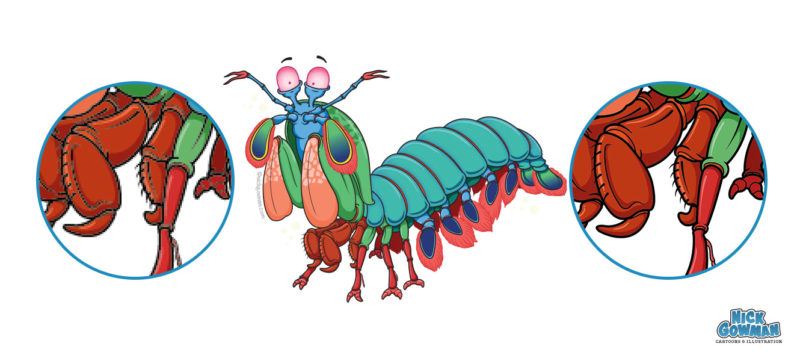 One of the questions that pops up now and again as an illustrator is "what's the difference between bitmap and vector?" and this is a VERY important question in today's graphical world, especially when working on a new cartoon illustration!
Well, here I shall demonstrate the basic differences with the aid of a cartoon Mantis Shrimp, with both images shown at 500% of original size.
What is a bitmap?
We're probably most familiar with bitmap graphics? The three most popular of these are JPG, PNG and GIF.
Bitmap images (sometimes called raster) are a series of small dots, called pixels. These pixels are assigned a colour and then arranged in a pattern to create the image.
You'll notice when you zoom in on a bitmap image, you can make out the individual pixels that make up the image. Bitmap formats are ideal for any image that requires a lot of colour information, such as photographs.
The obvious disadvantage to a bitmap file is as you stretch the image or make it larger, the pixels too get larger, resulting in a blurry image.
What is a vector?
Now, vectors are an entirely different beast altogether!
Vector illustration takes a little more to explain, as it's not quite as straightforward as painting down on a page as you would with Photoshop.
One advantage to using vector illustration over bitmap is the scalability. As I'm sure you've all done, when you scale or stretch a bitmap image up, the pixels also get larger, resulting in a blurry picture.
As a vector works on a series of mathematical points, the image remains crystal clear, whether the size of a postage stamp or a bus!
Secondly, vector images tend to be much smaller in file size than bitmaps.
This is because instead of having to store up all of the colour information for the individual pixels, the vector just has to store the information about the mathematical points. This will therefore take up much less space.
Vector illustration is also much cleaner and crisper too, which makes vector illustration perfect for cartoon logos or mascots.
Now you know the difference, let's create a new cartoon mascot!
Get in touch today and let's create your next eye-catching character!
contact me