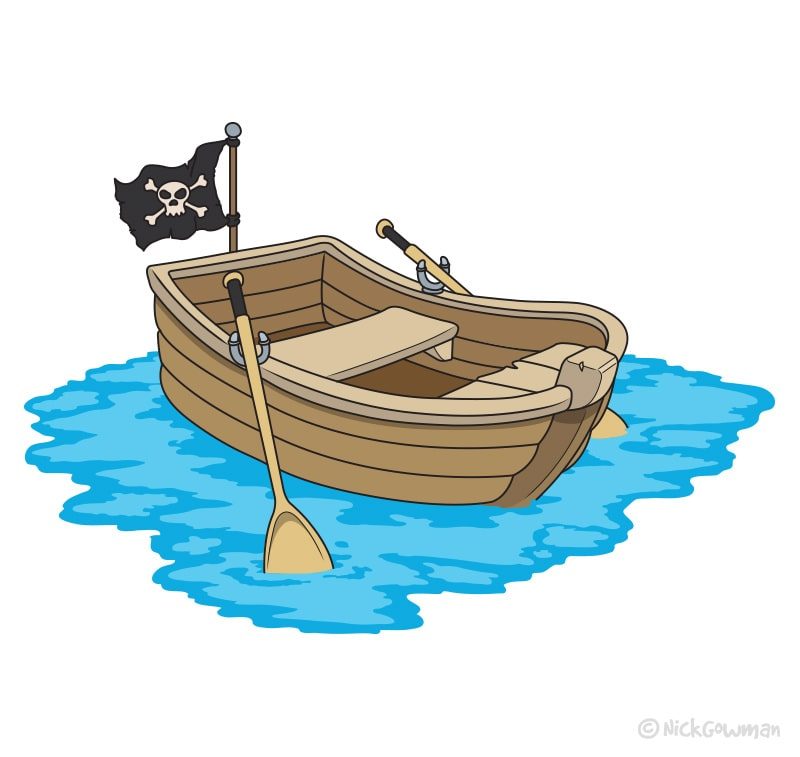 What could be the best thing that a cartoon pirate might need to get to shore to bury his beloved treasure? That's right, a cartoon rowboat!
The next cartoon required for The Pirate Deck game is a cartoon rowboat card. This particular card will allow the player to hold an additional pirate when in play.
I have completed the initial pencil sketch for this card and am now working on all of the solid outlines. The next stage after this will be to add in the base colours and then finally any shades or details.
This card differs from the rest of the 'object' cards, as it's the first that doesn't feature a cartoon pirate character in the illustration. It sits adrift with a pair of oars and a Jolly Roger flag attached to the stern.
I've also been working on a sketch for the 'Rogue Wave' pirate card. This consists of a giant wave sweeping across the deck, scooping up an unfortunate pirate in it's wake.
For added dynamics, and of course the usual quirky humor, I have added in a couple of rather surprised-looking cartoon fish.
This card utilises the standard deck/railings illustration that is used on all of the 'character' cards in the game and has the wave overlayed.
It's also a very exciting night tonight, as I shall be heading down to Poole to see my hero and Idol, Steve Harris of Iron Maiden, performing with his solo project band!