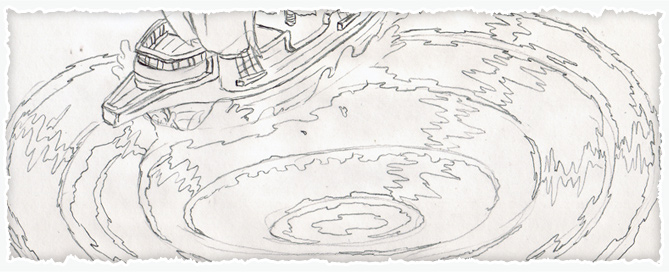 I have been busy working on the next two card designs for The Pirate Deck Game, the first of these being a whirlpool.
The whirlpool card has the ability to remove another players card from their hand/from play.
The initial sketch of the whirlpool also includes a pirate galleon, being pulled to it's demise in the centre.
For some reason, I envisioned something similar to the bathroom plughole when completing the whirlpool sketch, although I don't recall seeing many pirates in my bathroom!
I'm not a big user of colour gradients on my cartoon work, but I feel the whirlpool would benefit from some delicate shades of colour, just to add some more depth – will need to try it out and see!
I've also completed a sketch for the next of the character cards, a pirate girl labelled 'Cut-Lass'.
Short of stature, but certainly not in courage, she has her foot on top of a small chest of doubloons and waving a sword in the air!
I have also completed the colours and shading for 'Block' and 'Tackle' pirate cards, and I will be adding these to my portfolio very soon.
I was very pleased with how both of these character cards turned out – I feel their poses and expressions were very in keeping with the theme of the game, very bright and eye-catching!