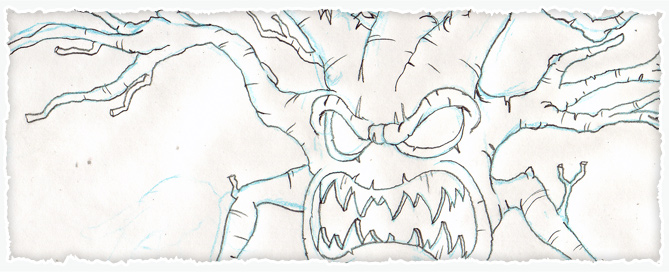 Been feeling quite spooky here at cartoon HQ, with Halloween on it's way I thought it only fitting to be working on some more spooky cartoon characters!
So today I put together a sketch for a spooky Halloween tree, which I will soon be digitising and adding to my portfolio!
This is something I've wanted to create a cartoon of for some time, and with Halloween coming up it was the perfect opportunity.
I have him with my usual style of large, goofy eyes and a grimace loaded with sharp pointy wooden teeth.
At the base of the tree is a cheeky cartoon pumpkin, laughing as he peeks over the elongated roots of the tree.
I'm hoping to get the digitisation ready for a super spooky Halloween post this weekend!
In other news, I am almost there with finishing the last three cartoon characters for The Pirate Deck game…
Quartermaster's Orders
I have been working on a card for Quartermaster's Orders, which depicts a rather zany peg-leg pirate leaning on a wooden crutch and barking orders!
He holds in his hand a rolled-up scroll, which I'm undecided as of yet whether this is a map or some orders from the pirate captain.
A rather moth-eaten and scatty looking parrot is perched upon his shoulder.
Royal Navy Flag
This cartoon flag simply depicts the style of flag used by the Royal Navy at this time. It is basically the cross of Saint George, with a small Union Jack in the top right quadrant.
We also have a cartoon bald eagle clinging onto the flagpole, keeping a beady eye peeled for those pirate scum!
This flag differs from the others in the series in the sense that it is the only one to be immaculate – there are no tears or patches on this flag!
Edward Teach Flag
The Edward Teach flag is to be used on a card entitled 'Robbed' and depicts a cartoon version of a classic pirate flag design.
It illustrates a kind of skeletal demon with a spear and in the bottom corner is a bleeding heart.
Just to be consistent with the previous flags for The Pirate Deck, I have a little nautical-themed creature scampering up the flagpole.
In the case of this card, it's a bulbous pink octopus, clinging on for dear life – poor chap!