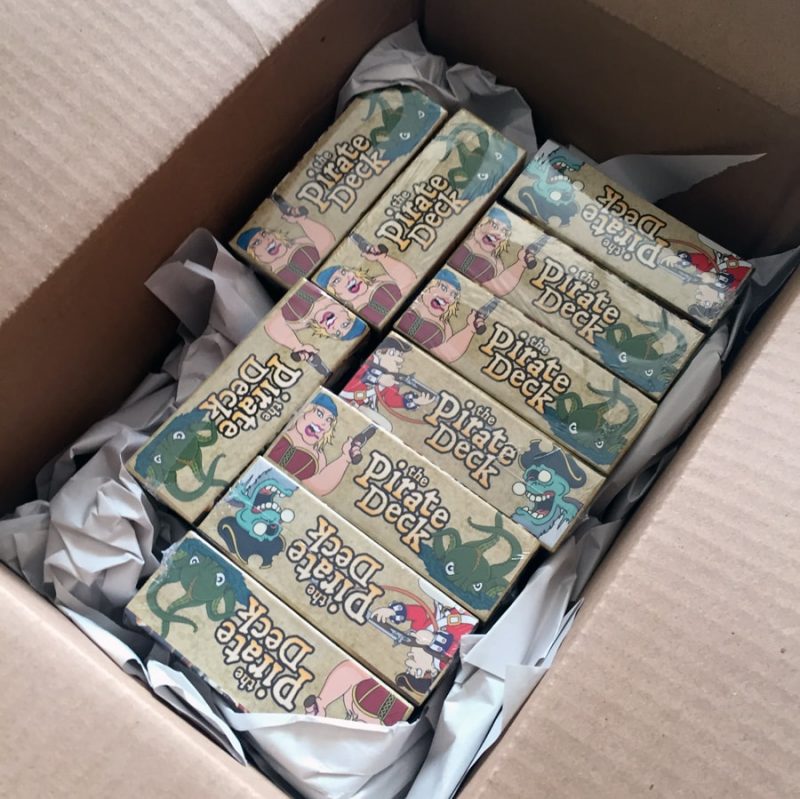 Well, it's finally arrived and I must say I'm very pleased with The Pirate Deck.
It's been a labour of love but I now hold in my hands a copy of my first published card game.
The objective of the game is to strategically use pirate cards to board a ship and steal treasure coins by matching card icons.
The Box
Very pleased with how the box looks at initial glance. The print quality is very good and has been constructed from a very firm substrate.
The gloss finish also adds to a feeling of 'quality' and feels very sturdy. It is also of a very neat size – not too big and not too small.
The characters have also all been very well utilised on all the corners of the box, both in the tray and the lid.
The actual 'deck' detail that was used on the character cards has also been used to give the box a chest-like appearance.
The Pirate Deck Cards
This has to be the most exciting bit for me, as this is the mainstay of where my work was used.
The print quality of the cards is very good and the colours have come out very accurately.
The background elements and also the chosen typeface have all come together well too, although I do feel the elements are a little tight in places.
Gold Doubloons
You may remember from one of my earlier posts that we had a custom gold doubloon design created specially for this game.
These have now been created into amazing little plastic tokens to add to game play, complete with my pirate art embossed front and back.
The deluxe version of the game will ship with metal coins instead of the standard plastic version.
The doubloons are all kept safe inside a velvet drawstring purse with a nicely screen-printed skull and crossbones on the front.
I can see this being a nice accompaniment to a fancy-dress party or cosplay event!