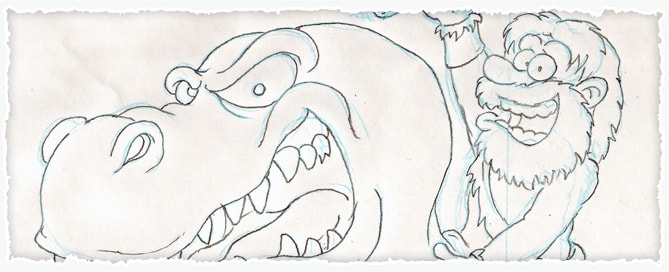 Last week was the Cartoonists Club of Great Britain AGM, and as a committee member, I had a little trip to London to attend.
This years AGM was held at the Punch Tavern and what a beautiful little place, adorned with fancy little decorations and an overall illustrative theme.
In discussion with the club secretary, he asked me whether I'd be interested in doing a cartoon illustration for the next issue of Jester magazine… silly question really!
The Jester is a monthly A5 publication that is sent out to all members of The Cartoonists Club of Great Britain.
I was even more excited when he announced that the theme for the month would be dinosaurs and prehistoric animals!
A prehistoric cartoon for Jester magazine
So given completely carte blanche for what would be on the cover, I set about sketching some prehistoric cartoon characters.
I wanted the focus on a central dinosaur, and what better dinosaur to include than the king of them all – Tyrannosaurus Rex!
In addition, I sketched a little cartoon caveman riding on the dinosaur's back, holding aloft a spear.
Just to keep with a cartoonists theme, I went about replacing the spear with a yellow pencil.
I've dressed the caveman in an animal skin loincloth and adorned him with an array of bone and tooth necklaces.