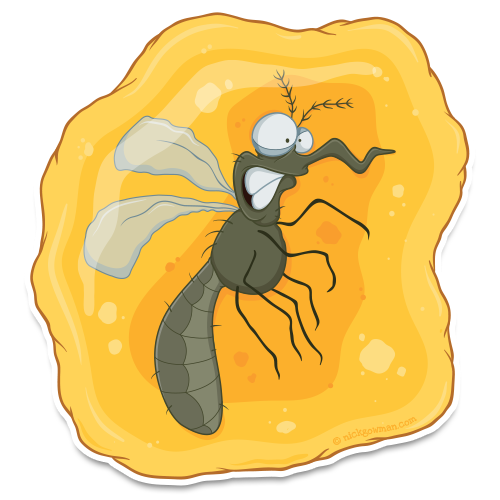 Ok, so we all know I'm a massive fan of the Jurassic Park movies… So, for a change to more cartoon dinosaurs, I thought I'd do a cartoon of the insect in amber that started the whole story.
---
So what's the deal with the insect in amber?
Easy peasy for those who have seen the movie or read the novel of Jurassic Park, but for the five of you out there that might not have…
The basic premise of the story is an animal preserve off the coast of Costa Rica that houses dinosaurs, made from DNA extracted from fossilised insects and mosquitos.
This cartoon was created as a funny (almost accidental) pencil sketch, where I created a pained expression on the mosquito, as if he'd been in there a while…
The body followed, keeping it as simple as possible, with lots of kinks in the legs and nose and adding in some crinkled wings.
In drawing the insect and adding the colours, I decided to use some more subdued green shades, and in an unusual turn for me, used a dark green colour for the outlines, as opposed to my usual black.
This allowed the insect to look a little more like it was encased in the amber, rather than simply adding a yellow overlay to the whole piece.
---
Drawing some cartoon amber
Now the, how do I create amber and make it look translucent, while still retaining my cartoon style?
Good question, and one that stumped me for a little while. Looking at pictures of amber, I noticed how the colours layer up inside when viewed through the light.
I emulated this by creating a series of amber-coloured shapes, starting with lighter shades and creating darker amber shapes as I worked back towards the insect.
A few very light bubble shapes were then added to emulate bubbles caught in the amber and also helped to break up the bigger shapes.
A darker outline was then applied, using one of my brush pens in a red/brown colour, giving a rough-cut appearance to the edges.