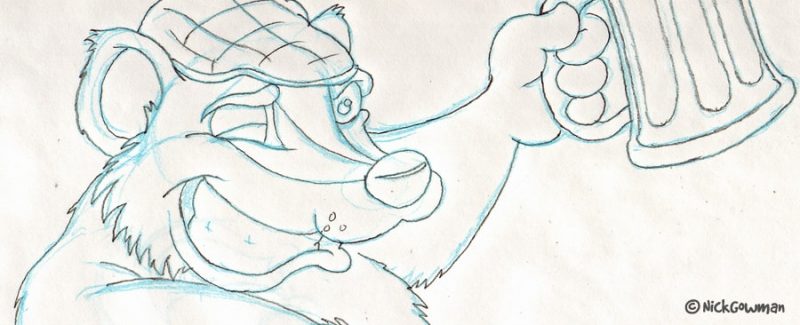 A surprise opportunity sprang my way tonight, as a local pub in Salisbury requires a design for a beer clip and decided to run a quick competition.
So, being a fan of both beer and cartoons, I thought I'd spring into action with my sketchpad!
This particular pub, The Winchester Gate, is a popular pub in Salisbury for it's live music and I know it well.
I also know that the landlord is very into badgers (after all, his band is named after them), so used this as my starting point, adding a flat cap on him too (not that it's a likeness, but just adds to the character of the pub).
Finally, I added a large glass of fresh, frothy pint in his hand – perfect for a very thirsty badger! This was also fun to do, as I needed to make the pint look not only appealing, but add some depth to it too (plus some bubbles).
The beer clip concept
Being that the purpose of this design is a beer clip for the front of the pump, I figured this design would also need a shield behind the cartoon of some description.
So had the idea of having our slightly inebriated badger leaning on top of a banner, which will contain the name of the beer, and behind him a hexagonal wooden shield.
This will allow him to have some backing and to draw the eye in towards the cartoon character, plus will make it easier to display on the pump front.
In terms of colour, I've gone for some earthy brown and golden tones – keeps it fresh and rural and also aids in making the badger stand out!
The result
Well, I'm very impressed with how the final design came out considering the tight time constraints.
The final decision for whether this design will be used will be made on Thursday night – wish me luck!