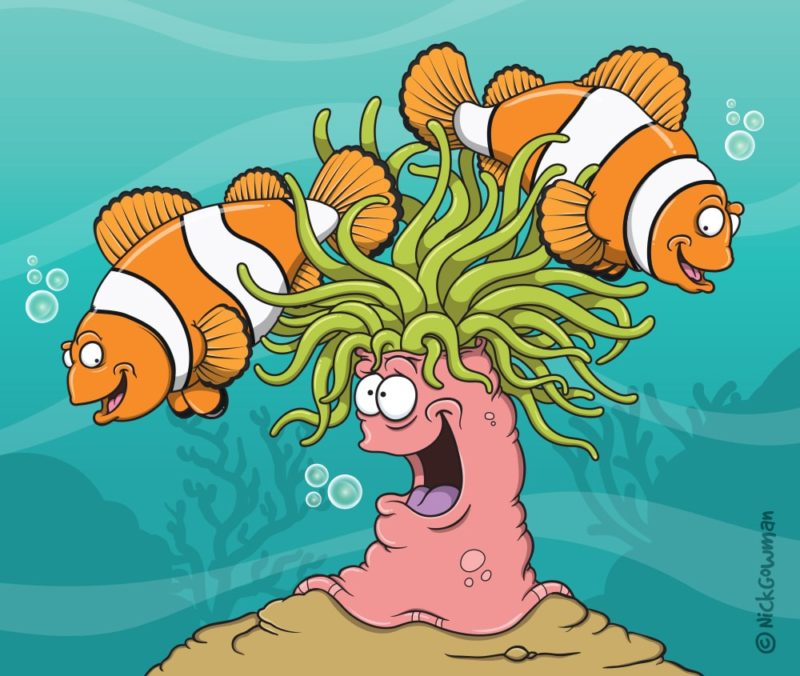 I've recently begun a new series of sea creature cartoon illustrations and wanted to start the series with a well known (and thanks to films like Finding Nemo) and recognisable spieces – the clownfish!
---
About my clownfish
Clownfish have always intregued me, even from a very young age, watching them swimming around in aquariums.
They always seemed so very small and friendly, with their little-rounded fins and cute faces. I also loved the bold and crisp white in their stripes.
With this cartoon illustration, I thought that one clownfish on his own would look a bit small and lost, and seeing as they're quite sociable little things, I thought I needed at least two!
---
A crazy anemone
So as you know, the best friend of any clownfish is the sea anemone.
Now, for those of you that don't know, sea anemones live on coral reefs and attach themselves to rocks with a strong sucker.
The mouth of the anemone is located in the centre of the stinging tentacles, but as this is a cartoon, it would only look right on the side accompanied by a pair of googly eyes!
I imagine that the anemone would also provide shelter for other sea creatures, including my cartoon blue crab from the teeth of hungry shark!
---
If you like the various cartoon sea creatures that you've seen in this post or indeed around this website, please get in touch today!