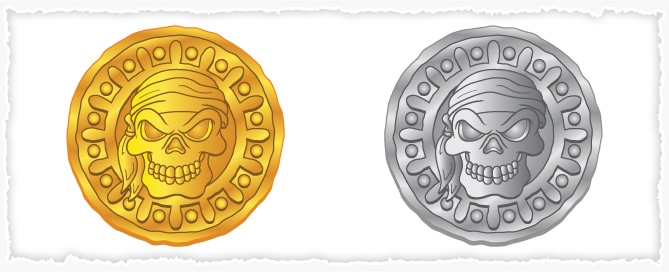 Ok, so just for a change it's been a busy month. I've most recently been working on some gold doubloons for The Pirate Deck game.
The gold doubloons are designed for two purposes – gold and silver versions that sit on the edges of the playing cards themselves and also as a template for coin tokens to be used in the game.
Gold coins and silver coins in play
The idea being that when two cards are lined up successfully in play, and complete a coin illustration, the player is awarded a gold doubloon token.
The initial release of the game will come with plastic gold doubloon tokens, whereas the deluxe version will contain REAL metal coins – very exciting stuff!
Alongside the coins, I have also been working on some variations on the layout for the playing cards, in terms of the typefaces used and also the borders for the cards.
Other cartoon pirate cards in progress…
Currently also in progress are the 'figurehead' and 'poop deck' cards. Both of which now have completed outlines and are just awaiting the addition of base colours and the usual shading and highlights.