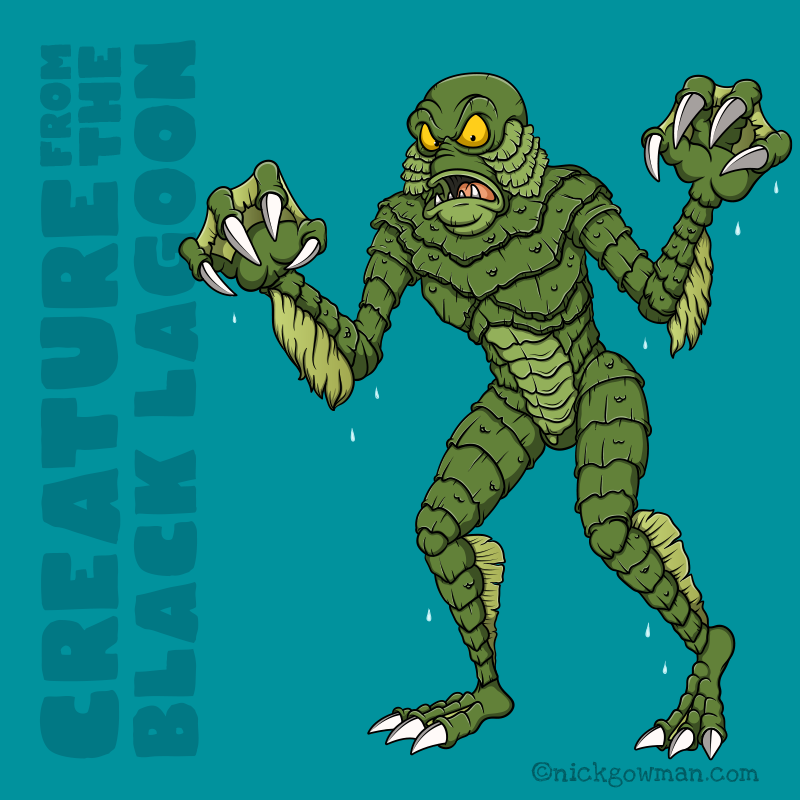 I've been having a lot of fun recently creating some new and creepy cartoon monsters for my portfolio!
But why cartoon monsters Nick?
Good question! Simply because cartoon monsters have always made me laugh and enjoy making them look as warped as possible and you can have great fun exaggerating all of the features and expressions!
Carnivorous Plant
I've been wanting to draw a giant, man-eating plant for some time now and having recently watched the movie 'Little Shop of Horrors' recently, I had the perfect incentive to get sketching.
I wanted to put a lot of emphasis on the giant mouth full of teeth, balanced atop a rather scrawny stem.
The other great thing about creating this cartoon monster is that I could go mad with the vines and leaves all around the base.
Just to complete him, I've placed him in a cracked plant pot, with roots sticking out, akin to the depiction at the exciting climax of the film.
If you'd like to see the final version of my carnivorous plant, he can be viewed in my portfolio.
Creature from the Black Lagoon
Another favourite of mine from a bygone age is the Creature from the Black Lagoon, based on the classic B-Movie of the same name.
This one was especially fun to do, with all of his overlapping scales and trying to achieve a feeling of depth in them.
My original plan was to create him carrying a scantily-clad young lady as per the original poster artwork, but sadly I ran out of time – might be something to revisit at another time!
Edward Scissorhands
No series of cartoon monsters would be complete without the inclusion of something from the imagination of the great Tim Burton!
Edward Scissorhands was always a favourite childhood movie of mine, with his vacant expression and complete sense of innocence.
I also felt that his costume would be an interesting challenge, with all of the straps and buckle detailing.
I thought I'd add an additional slice of my humour by giving his moon belt-buckle one of my usual zany grins!
The finished version of my cartoon Edward Scissorhands can also be viewed in my cartoon portfolio.