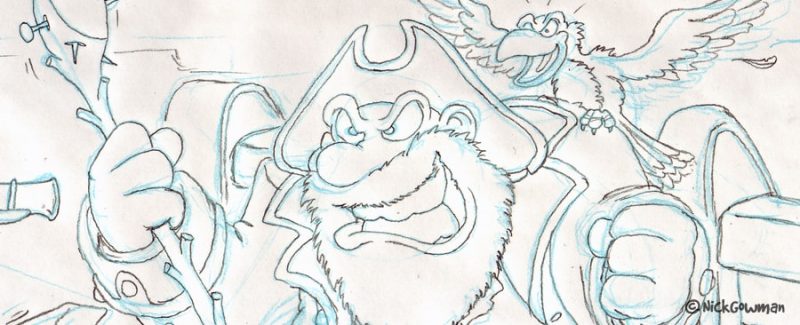 So, next on the list is another little commission from a musician for a cartoon pirate to illustrate the cover for a new pirate song download.
Now as we're aware, I'm a little bit of a pro now when it comes to creating pirate themed cartoons…
The main difference with this cartoon pirate, is that he's Irish, so instead of a cutlass or pistol he brandishes an enormous blackthorn shillelagh!
As the artwork is to be used as an iTunes download, there isn't a lot of space for lots of detail, so have opted to have our main pirate character front and centre.
Upon his shoulder rides a faithful, and extremely noisy pirate parrot, wings raised and feathers flying!
I've then added a circle of pirate arms in the foreground, rather nervously brandishing cutlasses, daggers and pistols!
There is also a large space at the top, which will contain the title of the song. This I hope to be able to style in a similar way to The Pirate Deck lettering, but will add a green tinge to it.
The next stage, once approved, will be to take this initial scan and begin the digitisation of the outlines and then tightening the composition.