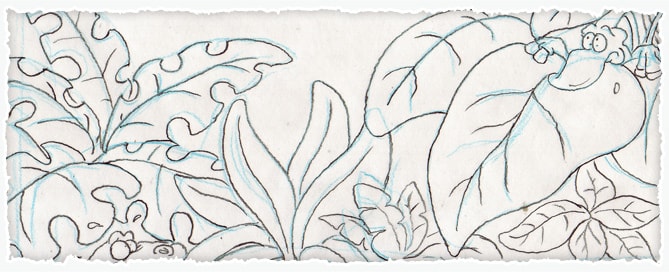 So the creation of my recent prehistoric Tyrannosaurus cartoon has gone very well and I now have all of the outlines and base colours in place.
The shading is also complete and have managed to add in detail to the caveman loincloth and an extra fuzzy hair and beard.
Luckily for me the deadline for the artwork isn't until next week, and with a little spare time on my hands it's time for some additions!
Prehistoric foliage
I'm hoping that there will be enough room on the prehistoric cover to be able to include some jungle foliage.
In my minds eye, I envisioned having a series of ferns or small plants at the bottom of the cover and maybe some small dinosaurs running from the Tyrannosaur!
So sketching away, I came up with a series of different prehistoric plants, mainly with large fronds and leaves – perfect for hiding a couple of terrified cartoon dinosaurs under…
I thought that including these as separate elements would also allow the magazine editor to put together an exciting composition.
Cartoon Pterodactyls
Some time back, I had sketched a series of cartoon Pterodactlys with the intention of adding them to my portfolio at some point.
So digging back through my sketchbooks, I found them once again and thought they'd be ideal!
I picked two of them to use, with similar bodies but very different heads. All that was to do now was to change their expression slightly, from happy to scared!
So, I have a deadline now of only a few days, but that does include the weekend – wish me luck!