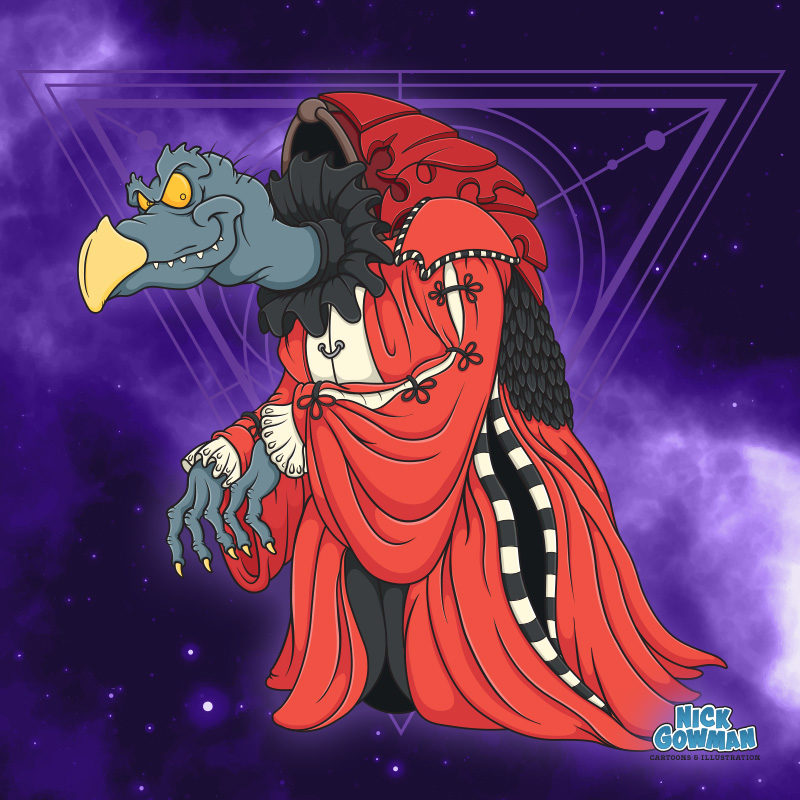 With the release of the superb new Netflix series, The Dark Crystal: Age of Resistance, I just simply had to jump onto the drawing board and create a Skeksis character in my own style!
---
Who are the Skeksis?
Ok, so for those of you who have never seen The Dark Crystal (but I seriously recommend you do), it's a 1982 fantasy movie by Jim Henson.
The plot of the movie follows a Gelfling named Jen, who is embarking on a quest to find the missing shard of the Dark Crystal, which will restore order to his planet.
The Skeksis are a race of foul and mean creatures, who worship the Dark Crystal and will do anything to see that the prophecy remains unfulfilled, so that they may rule forever.
---
Skeksil the Chamberlain
This particular Skeksis cartoon is a tribute to the sneakiest of all the Skeksis, Skeksil the Chamberlain.
With the death of their Emperor, the Chamberlain hopes to claim the throne and will do just about anything to get it!
He challenges the General for the leadership, but loses in combat leading to his banishment from the castle of the crystal.
He later redeems himself by capturing the Gelfling and bringing them before the rest of his horde.
---
Creating my Skeksis cartoon
I started out my version of Skeksil as a pencil sketch, building him up out of a series of rough shapes and curves.
I focused for a while on his face to try and get a really sneaky expression, akin to his character.
His body is hidden mainly in a mass of red robes and some sort of artsy mantle on the top. Of course, this hunched shape was to conceal the puppeteers inside.
Once I had the pencils as I wanted, I went about creating the outlines in Adobe Illustrator, using varying thicknesses to build up the robes.