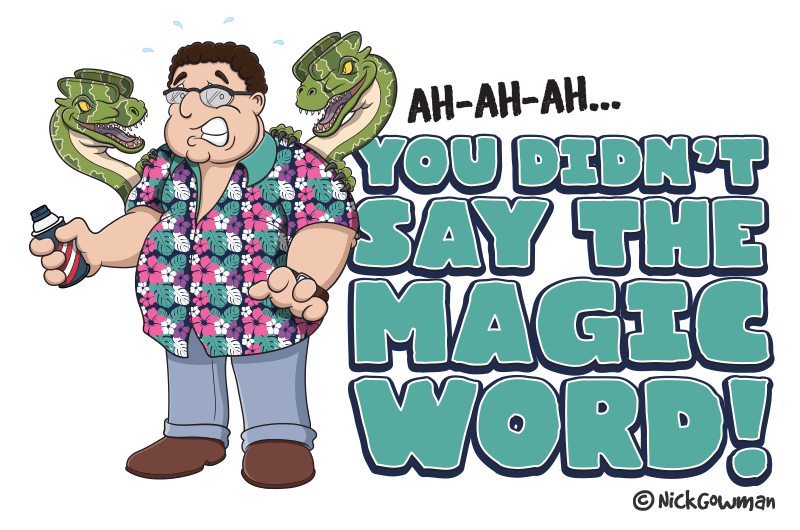 Just for fun, I thought I'd create a cartoon of Dennis Nedry, one of the principal characters in the absolutely amazing Jurassic Park. I've since created a whole series of Jurassic Park cartoon characters, including a new version of Nedry – be sure to check them out after reading this article.
Who is Dennis Nedry?
Dennis Nedry was a computer programmer at Jurassic Park. Due to a low salary and financial issues, he accepted an offer to smuggle dinosaur embryos off the island.
He wears a rather loud Hawaiian shirt during the start of the movie, so took full advantage of Illustrators ability to create editable patterns.
I first made a series of flowers and plant leaves and then brought them together to comprise his shirt.
I also added in his can of shaving foam, which was specially adapted to house and refrigerate the stolen dinosaur embryos.
Fun fact for you too – 'Nedry' is an anagram of 'Nerdy'
The Dilophosaurs
Those who have watched Jurassic Park and know of the canon will be familiar with the Dilophosaurus!
Although he is killed by only one Dilophosaur in the movie, I felt that having him with one peering menacingly over each shoulder would be much more fun!
These dudes see to the demise of Nedry, as he attempts to escape the island and make off with the dinosaur embryos.
Some additional lettering…
Just to keep true to the movie, I thought I'd add a quote next to my cartoon. This is the classic phrase that is uttered by his computer once the Jurassic Park team discover what he'd done.
I think there isn't a more iconic phrase uttered from Dennis Nedry than the one used when the team discover his treachery!