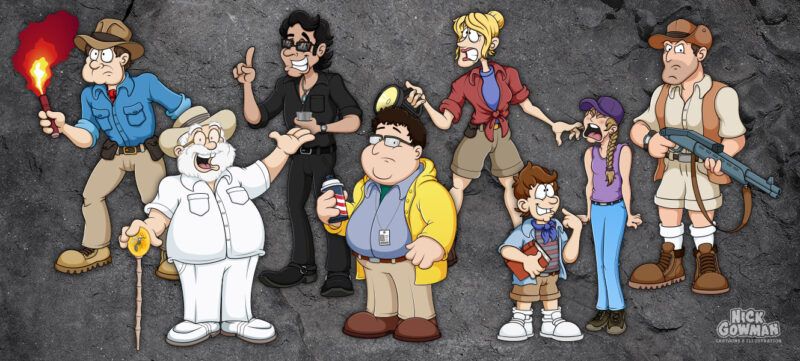 As a massive fan of the Jurassic Park franchise (and dinosaurs in general), I decided that for this year's Jurassic June I'd create cartoon Jurassic Park characters based on the principal characters.
Each character design was created as a pencil sketch before taking them into Adobe Illustrator and digitising as vector cartoon illustrations. Each character's design is heavily based on their appearance in the movie and not the book (although the book is much better, in my opinion).
The Jurassic Park characters all have very distinct personalities. It was fun to take each of these distinguishable qualities and apply them to each cartoon character and, where possible, add one of their recognisable accessories from the series.
---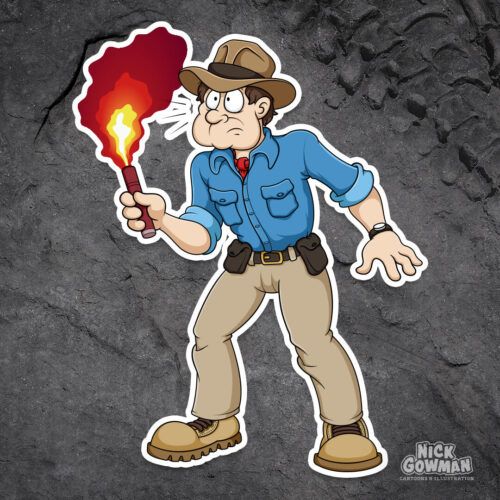 Cartoon Alan Grant
Dr Alan Grant is a palaeontologist who has become famous for his studies and discoveries of fossilised raptor nests in Montana. He has a very down-to-earth nature but is unsure what to make of Tim and Lex, to begin with. After keeping them safe making their way through the park, he changes his mind.
I've drawn him here with his trademark blue shirt and wide-brimmed fedora hat. He's holding a signal flare in his hand in a desperate attempt to distract the Tyrannosaurus.
---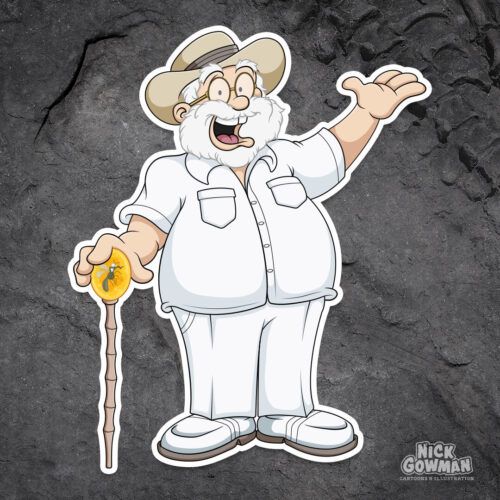 Cartoon John Hammond
John Hammond is the owner of the bioengineering firm InGen and a well-known dinosaur fanatic. He has spent a decade working to clone dinosaurs from DNA found in fossilised mosquitos.
He's a very friendly, if maybe naive gentleman. I've drawn him here with arms outstretched in his trademark white shirt and trousers and little straw hat. He holds a cane in his hand complete with a cartoon mosquito, trapped forever within the amber!
---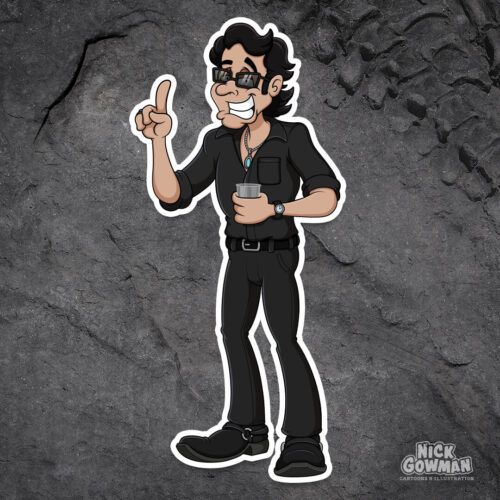 Cartoon Ian Malcolm
Ian Malcolm is a mathemetician who specialises in the popular emerging field of chaos theory. Brought in as an original consultant for Jurassic Park and has always been very sceptical that the island wouldn't work and would eventually fail.
A character with a very vibrant personality, he dresses entirely in 'rockstar' black, with oversized boots and tinted glasses. I've added a small cup of water in his hand for explaining his chaos theory and also as a useful Tyrannosaurus detector!
---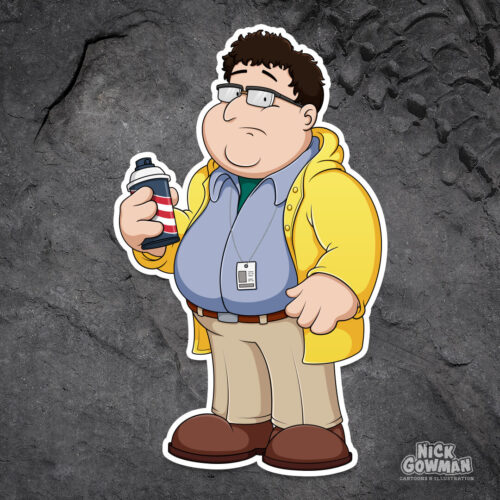 Cartoon Dennis Nedry
Dennis Nedry is Jurassic Park's computer technician, responsible for designing all of the park systems. He is hired by a rival bioengineering company to steal samples of all the dinosaur embryos from the park.
His greed was his undoing, bringing down the park, endangering the others and meeting his end at the claws of a Dilophosaurus!
I've drawn Dennis Nedry here in his yellow raincoat and clutching the specialised shaving foam can. This can is how he was planning to secretly steal the dinosaur embryos.
---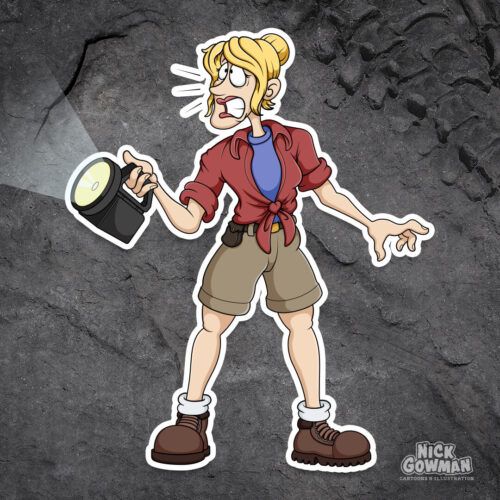 Cartoon Ellie Sattler
Ellie Sattler is Grant's student and partner on the Montana dig. A paleobotanist by nature, she joins the group on the island to study the plants and animals, even identifying what's causing illness in a sick Triceratops.
I've drawn Ellie here with her pink shirt tied around her middle and hair up in a bun. I've made her legs slightly thinner to add a bit more of a cartoon contrast, making her shorts and boots seem much more oversized. She's clutching a torch and looking a little terrified at the roar she's just heard…
---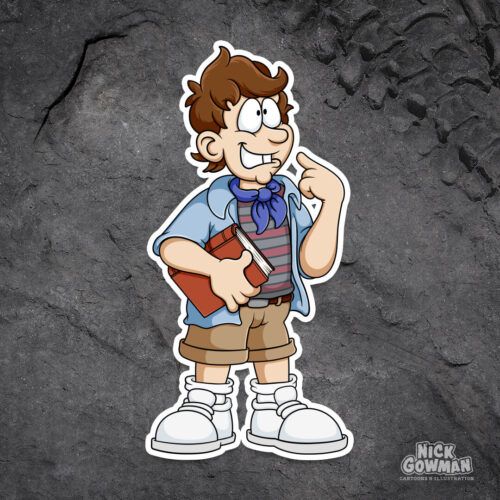 Cartoon Tim Murphy
Tim is a 10-year-old dinosaur expert and John Hammond's grandson. Tim gets a bit of a rough ride throughout the movie – first being almost crushed in a car by the Tyrannosaur, ends up in a tree and then electrocuted on a fence – before being chased around a kitchen by a pair of ravenous Velociraptors!
I've drawn Tim here deliberately disproportionate, with an oversized head, hands and feet. He's wearing his striped t-shirt and clutching his favourite dinosaur book underneath his arm.
---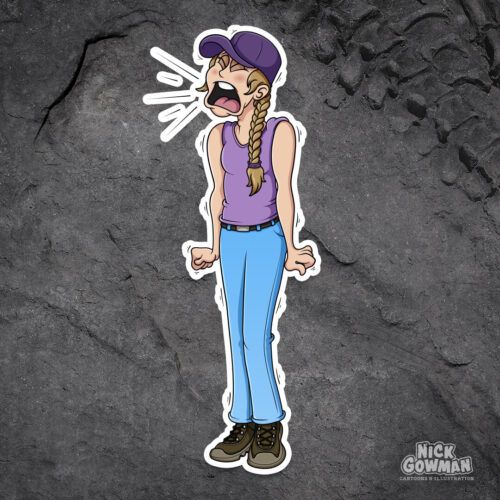 Cartoon Lex Murphy
Lex is Tim's older sister and a keen amateur computer nerd… sorry, she's a hacker! She has an equally uneasy run through Jurassic Park and screaming every step of the way! Between being sneezed on by a Brachiosaurus, running from a stampede and ultimately chased by raptors around a skeleton.
My cartoon version of Lex has her in a trademark screaming pose, body arched and topped off with her pink cap. I've also made her legs very long and bean-pole like to add more personality and to act as a contrast to Tim.
---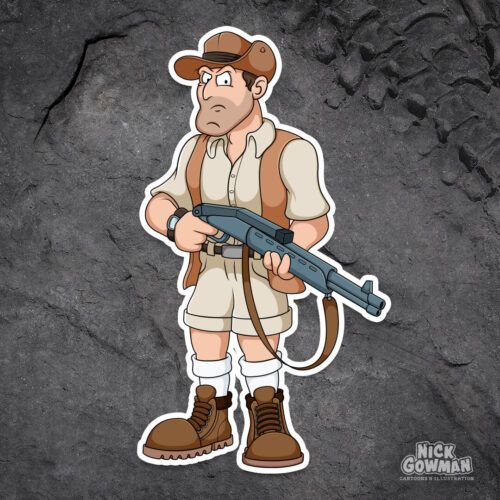 Cartoon Robert Muldoon
Finally, we have Robert Muldoon, Jurassic Park's game warden. He was formally a big game hunter and zoo consultant from Kenya. He's no fan of the park's Velociraptors and feels from day one that they should all be destroyed. Sadly, one 'clever girl' manages to get the better of him and he is killed by the very same creature.
I've drawn him here in his khaki drab shorts and jacket. He's also brandishing a pump-action shotgun, ready to go raptor hunting!